Which members of your teams will participate in Plug&Work and for which reasons?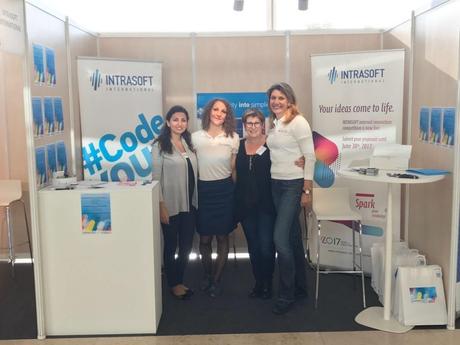 Stella VOULGARAKI: Group HR Director, Dora DIONISSOPOULOU: HR Business Partner - EU Institutions Business Unit, Sandrine ALUJAS: HR & Talent Acquisition Specialist and Marion LEBORNE: Recruitment Officer
Our mission is to remain a leading European IT Solutions and Services Group with strong international presence, offering innovative and added-value solutions of the highest quality. By participating in Plug&Work Luxembourg, we will be able to find the best employees and to build relationships with the IT community. Our previous participation in this event gave us the chance to attract and retain the most talented employees and to be considered as an employer of choice.
Which profiles would you particularly like to meet at Plug & Work?
Since we have established strong bonds with European Institutions in Luxembourg and Belgium, we are looking for high caliber candidates, fluent in English, able to work effectively as part of a team and within an international/multicultural environment.
We are looking for candidates eager to learn and use cutting-edge technologies and willing to relocate to Luxembourg and/or Brussels.
The key profiles that we are looking for are:
Java Developers (all level of expertise)
Angular/Java Developers
Business Analysts
IT Support Specialists
MSSQL DBA Administrators
Scrum Masters
Support Desk Operators
Senior Architects
Senior IT Recruiters
What makes your business the ideal partner to work with and what sets it apart from other companies that will participate in the evening?
Company's Overview:
INTRASOFT International is a leading European IT Solutions and Services Group with strong international presence, offering innovative and added-value solutions of the highest quality to a wide range of international and national public and private organizations.
With headquarters in Luxembourg, INTRASOFT International operates through its operational branches, subsidiaries, and offices in 13 countries: Belgium, Bulgaria, Denmark, Cyprus, Greece, Jordan, Moldova, Romania, UK, UAE, USA, Kenya.
More than 500 organizations in 70 countries worldwide (institutions and Agencies of the European Union, National Government Organizations, Public Agencies, Financial Institutions, Telecommunication Organizations, and Private Enterprises) have chosen the company's services and solutions to fulfill their business needs.
Why should you choose INTRASOFT International?
Respect: Our employees feel that they are fundamentally respected by their managers and coworkers.
Growth Opportunities: Our employees are encouraged to continue to develop their skills and careers. We offer performance development planning, career paths, internal and external training opportunities.
Performance Culture: INTRASOFT International launched a New Performance Management System, which aims to enhance performance and promote personal growth and career advancement. This is a crucial initiative, strategic to our employees' development and growth within the company. INTRASOFT International provides regular feedback to all employees about their performance, growth prospects, accomplishments, and areas needing improvement.
INTRAOSFT International's Culture: We possess a strong culture of collaboration, so cultural fit is evaluated as a factor in recruitment. The company employs more than 1,600 highly skilled professionals, representing over 20 different nationalities and mastering more than 18 languages.
Our strong presence in IT industry makes us able to consolidate our employer's brand name and meet talented people with fresh ideas. Furthermore, we manage to ensure a positive word of mouth among IT candidates; we demonstrate that we are an actively recruiting company and that we recruit the best among the best.
If you want to join the INTRASOFT team at the job party Plug&Work Luxembourg, you can register until November, the 23rd on www.plugnwork.lu